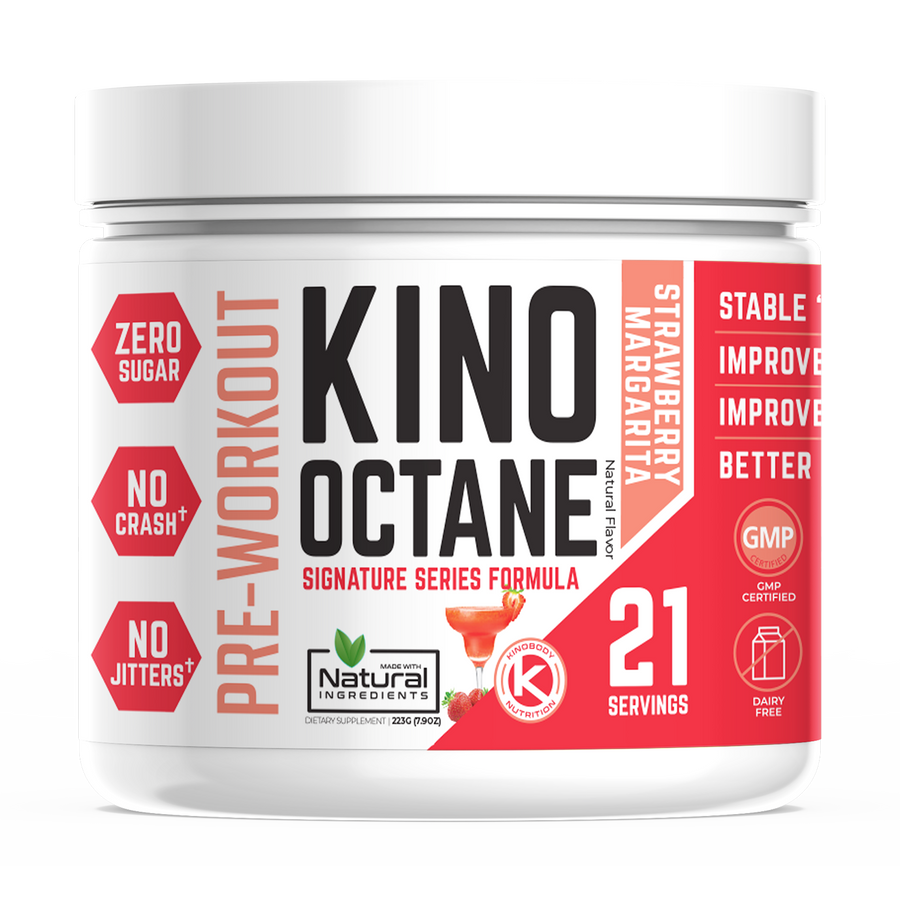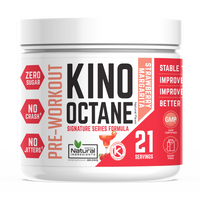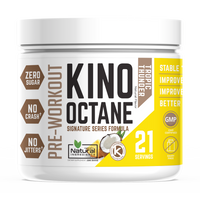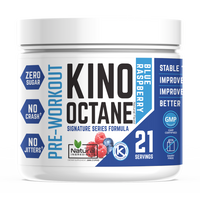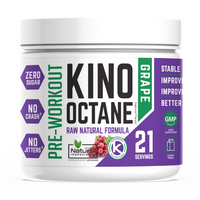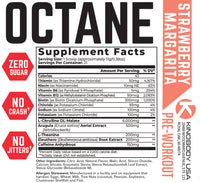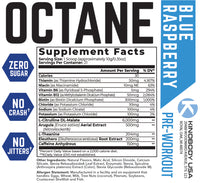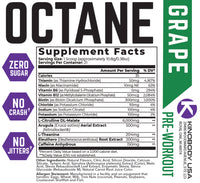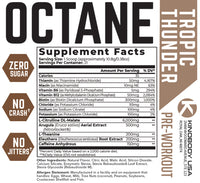 Kino Octane Pre-Workout
Select Flavor:
Strawberry Margarita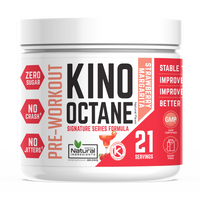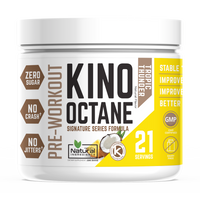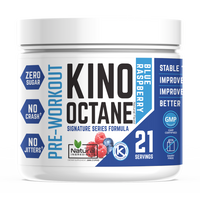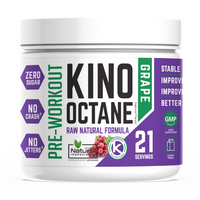 Purchase Option:
Flexible subscription plan
If you subscribe, it's just or per serving.
Order before noon EST to ship today
30 Day Returns, Try Risk-free
Smooth, clean energy throughout my workout just as Greg said. Great taste(with sparkling water is the best in my opinion). Didn't crash at all and my overall attitude has been positive (most pre workouts I tend to be aggressive or look mad a lot).
Add Extra:


Orders placed before 12pm EST will ship the same business day. We offer a 30 day guarantee on first time buyers and a 30 day return policy on all other unopened products for existing customers.
• Mix Kino Octane in 8oz of water. Drink 15 minutes before workout • Kino Octane is zero calorie and can be taken while fasting • For an incredible carbonated drink, Mix with sparkling water • You can also use Kino Octane as a daily energy boost when you need it most. • Don't exceed 2 scoops per day
Kino Octane Benefits
SMOOTH ENERGY
Forget the toxic spikes and crashes. Octane powers your workouts with clean energy which gently fades over hours.
CLEAR FOCUS
A killer workout requires a focused mind. Our formula provides the natural ingredients to keep your concentration laser-sharp the entire workout.
INCREDIBLE PUMPS
The "pump" is NOT for show — it's vital to achieve maximum muscle growth. Octane provides the essential nutrients your muscle needs to grow and achieve fullness.
IMPROVED PERFORMANCE
The key to maximizing muscle-building is consistency. You'll experience thesatisfaction of feeling like you had your best workout every time you hit the gym.
4.8/5.0 | Based on 1,000 Reviews
Loved By 1,000+ Customers
"Octane is life!
Even those times when I fall off the wagon. Octane is the Great Mid afternoon go go drink to keep focus and dialed in. 10/10 I make octane "cocktails" for my co-workers when we need that afternoon pick me and gotta stay amped up and smooth!"
"This is the best pre workout drink on the market. Superior results and more energy throughout the day. Highly recommend"
"Smooth power! Couldn't be happier with the energy and clean focus from kino octane. No jitters, noticeable increase in performance."
"Just the right buzz! I wake up at 5:30am for my morning workout. Using Kino Octane gives me the buzz I need to get a good workout. No jitters or crash! I will continue using Kino Octane on the daily!"
How are we Different?
L-Citrulline
Increases protein synthesis
Boosts nitric oxide production
Protects muscles from inflammation
Increases oxygen uptake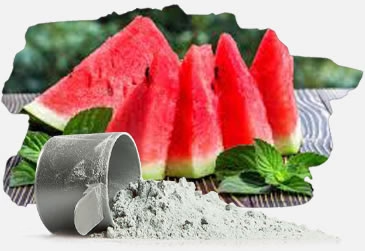 Thiamin & Biotin
Vital for metabolism
Boosts the immune system
Supports brain function
Helps digestion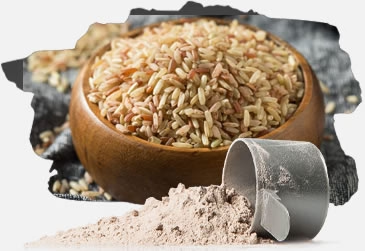 Siberian Ginseng Root Extract
Boosts the immune system
Improves athletic performance
Helps regulate blood pressure
Helps fight fatigue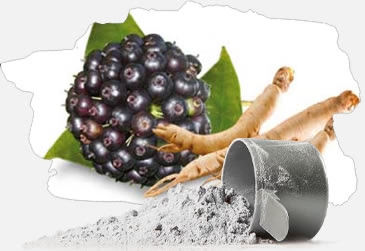 Natural Caffine Anhydrous
Heightens alertness
Promotes thermogenesis
Sustains energy to crush workouts
Increases focus and concentration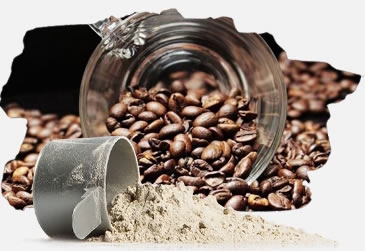 L-Theanine
Promotes a calm and relaxed state
Improves mental focus when combined with caffeine
Reduces vasoconstriction
Improves mood and cognitive performance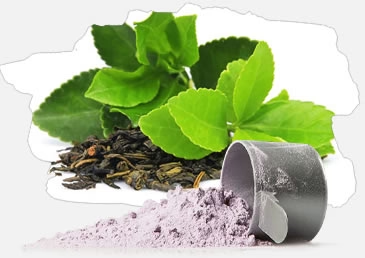 Everyone's go-to preworkout
Kino Octane
Love this pre-workout. Have been using it for years now. No crash effect, and a very smooth and clean pre-workout. Highly recommend
Cristian S.
United States
Love this stuff
Kino Octane wakes me up and makes my workouts better. I also love the tast. I look forward to trying other flavors. Please keep Wild Cherry!
Lily
United States
I call Octane pre work out "Rocket Fuel"
This product gives a smooth consistent energy for weight training with no crashes or negative side effects.
Greg T.
United States
It's changed the way I think about pre workouts
I love it its changed my view of pre workouts it's my favorite so far no jitters no headaches just clear focus and love the taste
Brandon R.
United States
Just what I was looking for!!
I absolutely love this pre workout! I'm taking it 15-30 min prior to my workout, no jitters no tingling feelings, just feel it gives me that extra edge! No mad rush or crash! I work out at 4 or 5pm and will buy more!!
Wendy C.
United States
Preworkout taking over the fitness industry
Kino Warriors are always crushing personal records
Let every workout will feel like your best workout. That's our claim, and we stand by it. No more: one step forward and one step back because you have good or bad days.
Frequently asked questions
Yes, Kino Octane is an all-natural pre workout supplement with carefully selected ingredients which are 100% vegan and gluten free.
With Kino Octane, we have put less caffeine in each scoop than our pre-workout competitor, because we want you to have a nice & steady boost without the jitters and other side effects of consuming caffeine. In addition to this, Kino Octane is made with L-Theanine, which promote a calm and relaxed state and pairs well with our caffeine content to offer the best experience possible. If you have any concern prior to taking Kino Octane, please consult with your health care provider to address any specific concerns prior to consumption.
Our Kino Octane formula is carefully crafted to include the absolute best ingredients for promoting incredibly smooth energy during your workouts, with an added bonus of peak mental performance. We have 6 key ingredients inside each bottle of Octane, which all work together to improve athletic performance, fight off fatigue, improve mood & cognition, support metabolism, protect your muscles from inflammation, and so much more. Whereas most of pre-workouts on the market make their formulas to over stimulate you while ending in a big crash of energy. Kino Octane offers a long lasting, clean energy to last you throughout your day.
No, Kino Octane is made with all-natural ingredients, and is sweetened with stevia, a natural sugar substitute derived from plants